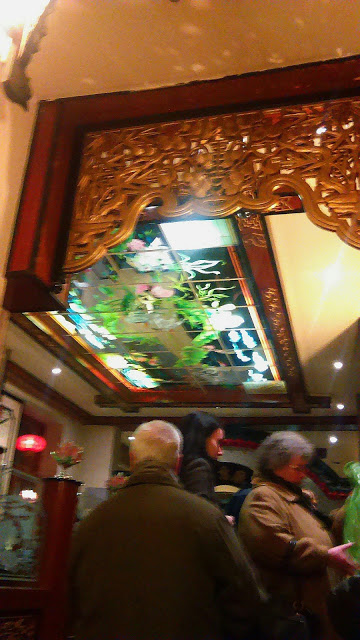 Taiwan Restaurant, Budapest Hungary
But he is in one mind, and who can turn him? and what his soul desireth, even that he doeth. For he performeth the thing that is appointed for me: and many such things are with him. Job 23:13-14.
When God performs His Word, something happens. "He performs the thing appointed for me," Job exclaimed. He perfects or finishes what concerns me, also; says the writer in Psalm 138:8. "Faithful is He that calleth you, who also will do it;" 1 Thessalonians 5:24. "We are His workmanship, created in Christ Jesus unto good works, which He has before ordained that we should walk in them." Ephesians 2:10. God works His work in man.
"It is God which works in us both to will and do of His good pleasure." What does it mean in Philippians 2:13? The word "energy" is underlying this verse. God produces the energy to energize His will and good pleasure in us.
Well what becomes of my pleasure? Psalm 111:2 says, "The works of the Lord are great, sought out of all them that have pleasure therein." We will find our personal joy in doing His works. His joy is our strength. Nehemiah 8:10
Luke 12:32 teaches; "Fear not, little flock; for it is your Father's good pleasure to give you the kingdom." By this verse we discover that God does not wish to diminish your authority, but His delight is to augment it. It says in Romans 5; by the abundance of grace and the gift of righteousness we reign in life by one Jesus Christ. So, when we delight in Him, we realize the desire of our heart, which is the desire of His heart too? The scriptures are plain.
In the brain are pleasure centers which release a chemical according to the fulfillment of sense-based needs. Levels of euphoria come about to the degree this chemical is released. Sight, sound, touch, smell and taste can all trigger releases. A sense of well-being may be perceived because of this activity of the brain. However, all of these senses are mere bodily appetites, sorry to say.
These are weeds in the soul-garden of a believer in Christ. These are weeds that have not been weeded out. They choke the good plantings of truth-eternal from God's Word. The metaphor is from "Rejoice in Hope" by Dr. Carl Stevens.
The brain operates in space, the mind in time; two separate spheres, but connected. We, "through the Spirit do mortify the deeds of the body."This verse is in Romans 8:13. Essentially, this means that through the Spirit's operation in the human spirit, the bodily functions are brought into submission. How? Through neglect these sense-functions cease to develop, as our spirit function thrives. With the Spirit, truth flourishes and brings a context for setting us free from bondage to them. They can still bring limited pleasure, but, must never usurp God's boundaries for liberty.
What are we trying to say? If our garden of unconscious reflection produces the image of who we are; then, "as a man thinks in his heart, so is he." Question? How does the destruction of pleasure producing "weeds" leave us with anything left of bliss? Well, it's the difference between "eros" and" agape" love; between an act of sex and an unconditional commitment; mere happiness versus enduring joy. Something-permanent separates from something-haphazard; doctrine-based volition overcomes unpredictable emotions, and total fulfillment separates from a never-quite-satisfied desire.
Like the parable of wheat and tares, the extraction of tares too soon may destroy the wheat. Same holds true in my soul-garden. For this cause there is a harvest season where the sorting out happens. This is a season of weaning, of brokenness, of tearing away. At this juncture the malignancy of hideous weed plants grows apparent, their deceitful nature is exposed. Back-to-the-wall, or bottomed out, our resolve opts finally against the pleasure releases.
The pain of this season is not imposed by a hurtful God, as some suppose. It, instead, is pain of a distressed pulling away, in order to find something of stability. See it? Beloved, please never imagine Christian living as just painfully losing delights; in contrast, it opens up a true and prolonged joyfulness. The new-testament word for hope means "a positive sense that something good is going to happen."
Here is a life without need for a drink, without need for another's body, without need of a sound, picture, or perfume. This life abides in the ecstasy of safety, covering, and intimate caring of God. God dotes on His chosen, sets out to bless them. He is the difference between "good" and "best." He fills the desire of the new heart.
Finally, "My son, eat thou honey, because it is good; and the honeycomb, which is sweet to thy taste: So shall the knowledge of wisdom be unto thy soul: when thou hast found it, then there shall be a reward, and thy expectation shall not be cut off. Proverbs 24:13-14. Friends lay your burden down. Let the one who loves you carry you now; He performs the things concerning you. love ya