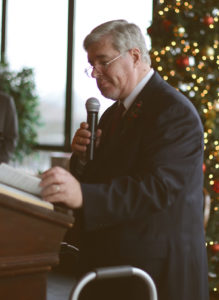 Born in Pittsburgh Pennsylvania, Pastor Thomas Sliva attended Bible College in Massachusetts at the Stevens School of the Bible in 1982.
Under the tutelage of the late Dr. Carl Stevens, Pastor Tom gained a vision for life and ministry. He and his family moved to Baltimore in 1987 gaining a degree at Maryland Bible College and Seminary.
From there, he served in Prescott, Arizona, and Indianapolis, Ind. Receiving Ordination upon his return to Baltimore in 1995, Pastor Sliva was afflicted with brain cysts in the late 90's and stayed at Greater Grace Church until his recovery in 2002.
He then assisted with ministries in Cincinnati and Pittsburgh before resettling in Baltimore due to his son's sudden illness and death. Pastor Sliva is a colon cancer survivor. He has been part of the Pastoral Care Team since 2008 and leads the Grief Share group at Greater Grace Church.