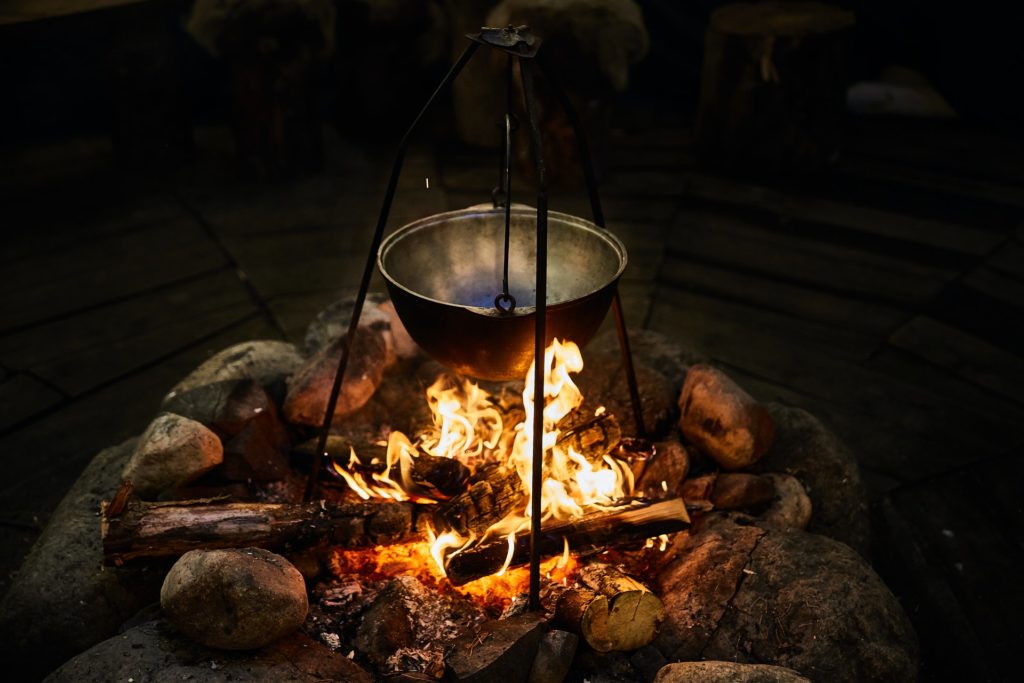 "And Elisha came again to Gilgal: and there was a dearth in the land; and the sons of the prophets were sitting before him: and he said unto his servant, Set on the great pot, and seethe pottage for the sons of the prophets.  And one went out into the field to gather herbs, and found a wild vine, and gathered thereof wild gourds his lap full, and came and shred them into the pot of pottage: for they knew them not.  So they poured out for the men to eat. And it came to pass, as they were eating of the pottage, that they cried out, and said, O thou man of God, there is death in the pot. And they could not eat thereof. But he said, Then bring meal. And he cast it into the pot; and he said, Pour out for the people, that they may eat. And there was no harm in the pot." 2Kings 4:38-41
Meal was cast into the poisoned mix, then there was no harm in the pot. Meal? Not just any meal, but the meal ordered by Elisha was added.
It was the meal of Spirit, the meal of healing, the meal of heaven, sanctified by the hand of the man of God. It was ample enough.  There exists nothing dead in that meal, nothing corrupted by the curse, nothing harmful.
Malachi 4:1-2  teaches,
"For, behold, the day cometh, that shall burn as an oven; and all the proud, yea, and all that do wickedly, shall be stubble: and the day that cometh shall burn them up, saith the Lord of hosts, that it shall leave them neither root nor branch."
"But unto you that fear my name shall the Sun of righteousness arise with healing in his wings; and ye shall go forth, and grow up as calves of the stall."
Friends, at best we humans are stubble to be burned. But, it is not by might, nor power we heal. We are not healed by intellectual prowess, nor clever devise.
No, we go forth healed and made whole by the faith of the Son of God, who loved us and gave Himself for us. And:
We are crucified with Christ, nevertheless we live.
"…yet not us, but Christ lives in us…"
in this state we are a catalyst for healing, a joy bringer, salt and light among
the mundane, hopeless, helpless, broken hearted –Captives of their own desires, slain of undiscerning conscience, victims of un-regenerated mind, These struggle to find their way, putting wild gourds in their pot, discovering their own fateful death, bit by bit. These blind lead other blind. There is a smidgeon of hope in their quest, soon to be neutralized into oblivion, with any residue of personal dignity dynamited into utter nothingness.
Friends the pot is full of the unclean thing — not to be touched. The higher "law of the Spirit of life in Christ Jesus" must make these free from the "law of sin and death."
So, what can we do?
Get on the highway of holiness and never get off.
Isaiah 35:8  And an highway shall be there, and a way, and it shall be called The way of holiness; the unclean shall not pass over it; but it shall be for those: the wayfaring men, though fools, shall not err therein."
Kill the fatted calf — you are home.(never view yourself on the outside looking in.) Luke 15
Use the meal of forgiveness, cleansing, Christ' blood, to readjust the pot of death when tempted to sink to old realities. 1John 1:9
Rehearse your position often. Dead — to sin, to the Law, to this world, to "I" in Adam. Buried with Him, Quickened, who were dead in trespasses and sin, ascended, seated together with Him in Heavenly places in Christ.  Rom 6:11, Rom 7:4, Gal 6:14, Gal 2:20, Rom 6:2, Eph 2:1, Col 2:15, Eph 2:6
Then, be ready, because many still have death in their pots. Give them some of your sanctified meal. Love ya
Share this Post