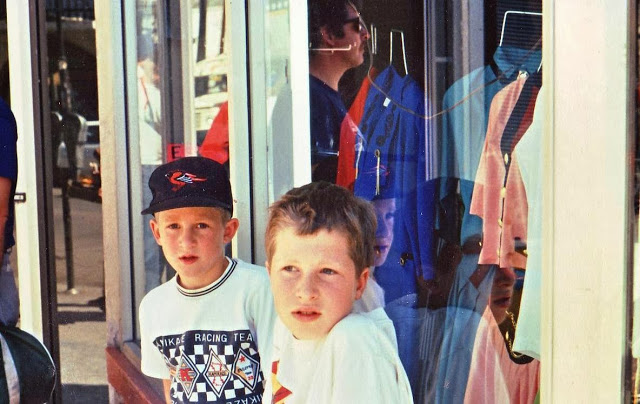 Matt and his brother Josh
This past week marked 10 years since we lost Josh. He was 25. We will never forget his ways and gifts. We will see him in eternity for sure but we miss him now. His Brother Matt posted this at mattsliva.com and he says it very well. love ya
This past week marked the tenth anniversary of the passing of my brother Josh. Over the last ten years I've come to understand a few things a little better.
Many people cope in many different ways with death; my way seems to have been in the privacy of my own thoughts. In dealing with death, I had to face the fact that my brother was never coming back. This took some time, but, in accepting this fact, I was able to move on in my life; not without my brother, but with him as close to my heart as ever, in my everyday thoughts, and in the great memories that we shared together.
Everyday I'm more and more grateful for the time we had together. We had time to become close friends and closer brothers. I'm grateful we had the chance to play so much music together and travel because of it. I'm grateful he let me drive his car before I had my license (sorry Mom). I'm grateful we talked about our futures and sometimes even about getting married; he would have loved my Lisa. I'm grateful he tried sea urchin sushi so I didn't have to (this was the only time I ever saw him spit something out). I'm grateful he took me with him when a big brother didn't really have to; I'll never forget that.
He was a man that unashamedly loved God. It came through in his life. It most especially came through in his music. He loved his family and his friends with an unquestionable loyalty. He had amazing character and courage. Going through the darkest and most difficult times, he never complained. He felt the effects of his cancer for more than a month before he even mentioned them to anyone.
Life was never complicated for him. He took everything in stride. We sat together in in the hospital room when the doctors told him he had cancer. When I didn't know what to think, I looked over at him and he looked as cool as ever, and then I was all right. The news didn't change a thing about the way he lived his life. It was as if he knew the outcome, and he had been preparing for it his whole life.
As I sit here in Malawi writing, in our little green apartment, I'm a little choked up, so I'll just finish. At some point in our lives we will all lose someone we love. Death is tragic any way you look at it. No matter how our loved ones go, the reality that they were loved becomes the very reason they leave heartbreak behind. Broken hearts can be mended but never fully healed, and that I don't mind. It is another reminder that the ones we love will always be with us. As I continue my life, I'm not afraid to say my brother is with me, he's coming with me, and I'm never letting him go.
Share this Post