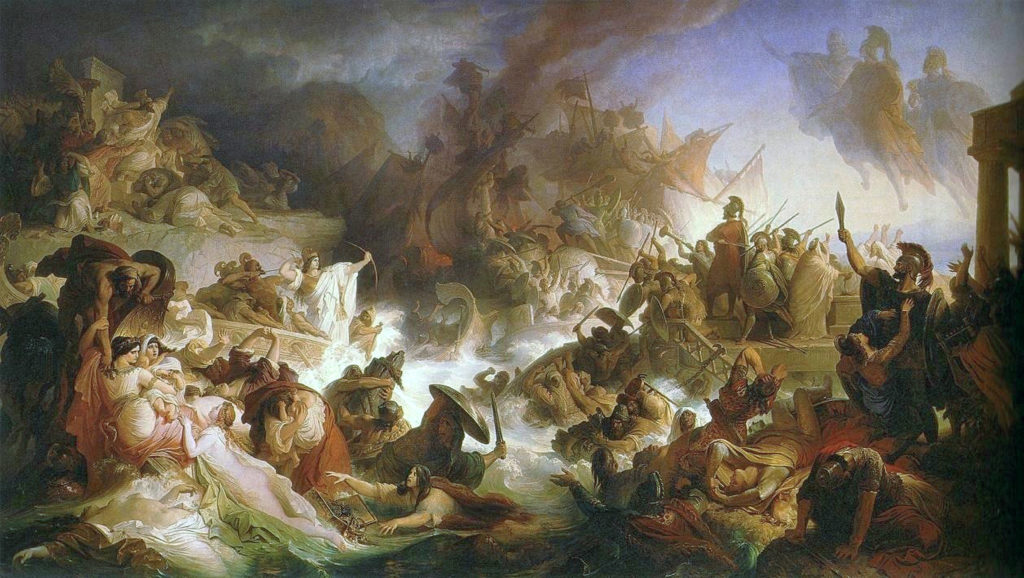 "Be not afraid nor dismayed by reason of this great multitude; for the battle is not yours, but God's."
"Ye shall not need to fight in this battle: set yourselves, stand ye still, and see the salvation of the Lord with you, O Judah and Jerusalem: fear not, nor be dismayed; tomorrow go out against them: for the Lord will be with you."

"So the realm of Jehoshaphat was quiet: for his God gave him rest round about. " 2 Chronicles 20:15,17, 20, 21, 22, 30
Another battle breaks while Elisha lives:
"Alas, my master! how shall we do? And he answered, Fear not: for they that be with us are more than they that be with them. And Elisha prayed, and said, Lord, I pray thee, open his eyes, that he may see. And the Lord opened the eyes of the young man; and he saw: and, behold, the mountain was full of horses and chariots of fire round about Elisha." 2 Kings  6:16-18
Still another:
"And Moses said unto the people, Fear ye not, stand still, and see the salvation of the Lord, which he will shew to you to day: for the Egyptians whom ye have seen to day, ye shall see them again no more for ever. The Lord shall fight for you, and ye shall hold your peace." Exodus 14:13-14
Men fought battles and God fought — His, an insurmountable power, yet men learned the disciplines, the requirements, the restraints; these were God's battles.  The men methodized, weaponized — strategized and tacticied. Okay…
First, stand still.
Second, hold your peace.
Third, fear not.
Fourth, believe. ("Believe in the Lord your God, so shall ye be established")
Fifth, praise. ("And when they began to sing and to praise, the Lord set ambushments.")
Sixth, Pray for opened spiritual eyes. ("for we wrestle not with flesh and blood.")
Seventh, poise for instruction.
These 7 are from the three battles given; here are some other battles:
The Israelites Fight the Amalekites – Exodus 17:8–16 — Moses interceded, having climbed the mountain, then Aaron and Hur elevated his arms. Amalek was defeated.
Israel Marches on Jericho – Joshua 6 — Joshua leads Israel, they silently circle Jericho. A shout tumbles walls.
Israel Struggles with Ai – Joshua 7–8 — Israel loses a hard battle, Achan's sin caused it. Joshua deals out chastisement, then re-convenes a second battle, this time victorious.
Barak Leads Naphtali and Zebulun against Sisera, the Commander of Canaan – Judges 4 –A woman (Jael), drives a tent spike into Sisera's head.
Gideon's 300 rise up against the Midianites – Judges 7–8:21 — Gideon drastically reduces his army's size. He goes forward breaking a pitcher and blowing a trumpet.
David Saves the City of Ziklag – 1 Samuel 30 — David weeps, then encourages himself, then consults God, then chases down the ran-sackers.
Absalom's Rebellion – 2 Samuel 18 (2 Sam 13–17) — David, reluctantly, but without sentimentality, must battle against his own son.
Each battle teaches a lesson in warfare.
In summary,stand still, believe, fear not, praise, pray,wait.
Then attack tactics:
intercede in prayer,
obey God's orders,
deal with unconfessed sin,
rebound (repent) and be restored,
Expect unexpected people who use spiritual tactic.
Let God weaken you.
Be broken before God,
pull yourself together mentally,
consult counsel of God and godly men,
forsake sentimentality.
"Your successful war is made with generalship…and aid is supplied to the heart of a counselor." Proverbs 24:6
lastly,
"Dearly beloved, avenge not yourselves, but rather give place unto wrath: for it is written, Vengeance is mine; I will repay, saith the Lord." Romans_12:19  
Watch, "…false brethren …. who came in privily to spy out our liberty which we have in Christ Jesus, that they might bring us into bondage: To whom we gave place by subjection, no, not for an hour."  Galatians 2: 4-5 
""Neither give place to the devil." Ephesians_4:27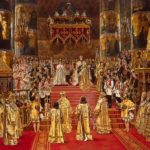 Remember,
"And I saw a great white throne, and him that sat on it, from whose face the earth and the heaven fled away; and there was found no place for them. Revelation_20:11 
But, Jesus speaks,
"I go to prepare a place for you.  And if I go and prepare a place for you, I will come again, and receive you unto myself; that where I am, there ye may be also." John_14:2-3
Friends, hold your place, hold grace, stand. He will fight for you. He comes quickly.   love ya