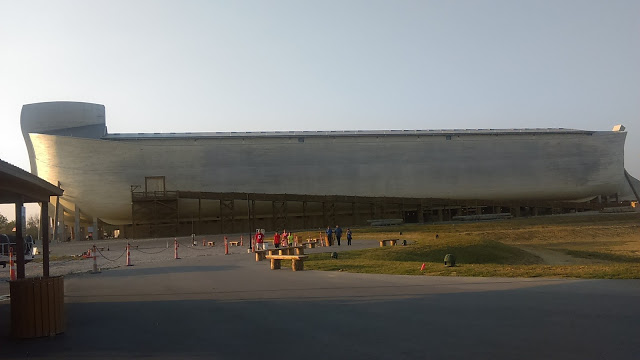 500 ft.- Noah's Ark replica-Ky.
"The meek will He guide in judgment; the humble will hear and be glad. The meek shall eat and be satisfied: they shall praise the Lord that seek him: your heart shall live forever." 22:26 Psalms. "But the meek shall inherit the earth; and shall delight themselves in the abundance of peace." Psalm 37:11.
We as mere men wish to change the things, events, or circumstances having be-chanced our life journey. We want to scramble them, soften the blow. We cannot. We cannot candy-coat, muddle, spin or water-down. These things have befallen us, period. Their collateral damage will not suddenly un-frag, huddle, or conglomerate, nor will its wound close up right now. Perhaps a miracle of heaven awaits, but not yet.
Instead of gall, jealousy, or spite, the meek lights upon something other; acceptance. Acquiescence, reception, acknowledgment, agreement, belief; do you see where this is taking us? Yes, to faith, to trust in God. Only God can manage and bring into control the "life" that is badgering us, maybe bludgeoning us. Only God is big enough to affect the redemption of a "life" that reversed itself on us, and dished out a fateful hand. It's greater than "life" it is God Himself.
Friends, the great lessons of life are brought into being in finding the good, (God), in the so-called bad. A man reaches an impasse and must re-invent himself. This is it. A problem roadblocks advancement. An enemy tries to bewitch our minds, a lion bellows to horrify us, a physical impairment stymies our easy road.
Create something that has never been seen or heard or invented! Do it or languish; we must. O, can we see the opportunity or only the adversity? Are we weary of refurbishing ourselves, living for the moment? Will we re-originate, reformulate, re-fabricate, rediscover? Will the juices of designing, restarting, conceiving, and imagining flow? — or negativity?
A man grew tired of watching men pull their new paint off of a car when removing the shrouding. He invented "Masking Tape." He let his mind go "outside the box." He devised a tape with only a certain amount of stick, a special formula. It took time and deliberation, but today we have it and still use it.
Another invented the wheelbarrow, another farmed out chemical problems on a new website to get answers. Today we have the "hover board," a football helmet inspired by woodpeckers, and a coffee mug that charges a phone.
Friends, meekness first, then faith, equals free-volition, equals true liberty. Whereas the contradictions of "life" hinder this faith/freedom, the "out of the canister" innovator is never sĥut-down in permanence. He just keeps discovering the novel idea, the fresh thought, the whim and fancy in sanctified operation.
We can not let our resourcefulness disintegrate. Caroline Leaf quotes a standard definition for free will, "set of capacities for imagining future courses of action, deliberating about one's reasons for choosing them, planning one's actions in the light of this deliberation, and controlling actions in the face of competing desires." "Imagining," "deliberating," "planning," and "controlling" are the big words. Keep these and faith lives, but begin with imagining.
First, slough off the hindrance, the downward drag, the impediment, the projecting woe-is-me pamperers and fondlers, and indulgers of our misery. They wanna keep you down because it takes God to invent. But this is the point, this is the glory. "with man it is impossible, but with God, all things are possible."
Abraham Lincoln embraced his destiny, but with a heavy heart. Perhaps he knew it would cost him his life. He counted his fate as inevitable, indeed it was pivotal for America. He saved the nation. But how? He fought off past tragedy, self doubt, opposing voices and a less than supporting spouse. He brawled, grappled, scuffled and came to fisticuffs; with his own world first; then the other.
His self-recreating gained him a vision from God which was wrapped in a calling aimed to redeem a nation. The exercise of his own free volition was critical in a greater battle for the salvation of multitudes. He freed the slave, he amalgamated the nation, but more so, he enabled a unified country to continue to not stifle the great blessing of God from heaven.
Lastly, lets not underestimate the value of keeping God's blessing flowing personally. Tragedy perhaps, but lets rebuild. Loss, but lets find gain. Despair, but repair. Delays may be needed in the battle for freedom, backward steps even. Let us lift up and pray for one another, it's not over yet, brothers and sisters. God can again command His blessing. Love ya.