I sang a song once,
'twas the joy of my heart.
It carried a tear-drop to surface,
on folk far apart.
A plain song it was,
without much buzz,
but oil was hidden,
'twas oil of love.
With one it brought laughter,
with another, gave joy,
some thought of heaven,
I remembered my boy!
My Mother, my Dad too,
George and Merrilee,
Bill Kraskie and Kevin,
again I will see.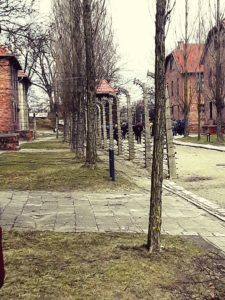 I visited a place called Auschwitz, where they do a security check still. They must have guards, but not to hurt — no, they resist only liars and haters who try to erase this death-camp from historical record. But I was allowed to see the piles; of shoes, cups, prosthetic devises, eye-glasses, and a room of hair, (human). I saw a chamber, I saw an oven, a chimney; I saw names and faces, pictures of herded people. I read poems.
 Here's one of a child of 9, found in their shoe.
Once upon a time was Liz",

she was dying alone.

Because her dad at Majdanek,

and in Auschwitz mammy…

translated by Adam A. Zych
Here's one of common indifference called: "That Time."
There was a lady cried over a cup she broke a childhood treasure.

What a pity I said. What a pity.

At the townhall a young official said: you must have had some documents in Auschwitz!

Oh my God. I said. Oh my God.

Another lady sighed: we were hungry too, only one single dress to wear to the theatre…

Ah yes, the war, I said. The war.

When people ask me about that time, I find nothing to say.
translated from the German by Gitta Holroyd-Reese
The tragic separation of children from mom and dad; and then the tragic "deaf ear" of the populace without — all too shocking.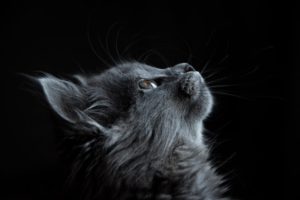 The inhumane potentialities of human soul are not eradicated, but handled in different ways by men. Some remember by depressing their memory, some pretend to self-realize and yet dread the day of full disclosure. Others handle it through nonchalance, again they hide; but the bold generation slowly regains hate-ability. After all, it represents the true diabolically infested self. They are who they are.
They never see why Jesus came —  man in his best estate is altogether smoke of vanity, sick head and faint heart. Should be enough for men to run to the Savior, but it's too hard to die to self-will, they rationalize.. Instead, to kill conscience unashamedly takes them inward to where demons haunt. The pseudo-freedom eventually destroys them and others.
Lastly, "one came to Him and said, "Teacher, what good shall I do to have eternal life?" "Why do you ask Me about what is good?" Yeshua said to him. "There is only One who is good; but if you want to enter into life, keep the commandments. All these I've kept," the young man said to Him. "What do I still lack?" Yeshua said to him,

"If you wish to be perfect, go, sell what you own, and give to the poor; and you will have treasure in heaven."

Then come, follow Me." But when the young man heard this statement, he went away grieving,

for he had much property." Mat 19:16-22 TLV

Self-soul manipulation can bring the property accumulation of God killing! Don't let it happen.

Back to my song:

ashes air-born,
stench along side,
electric fence gripping,
come take a ride.
A shot, a hang,
A resounding whack!
The conscience breaks deeply,
So necks and so backs.
But, blood, precious blood
On tree, on tree,
Christ, the God-man
Shed His for me!
Not the death of scruples,
but the death of the whole,
death to self-preserving
rights to my role.
He lay down His life,
He took mine along.
Now, risen with Him,
I sing my new song.
love ya