The believer walks (in dependence), on the Spirit, so does not fulfill the lusts of the flesh.
We can grieve the Spirit through unconfessed sin. We can quench the Spirit by operating outside of His will.
The power of the Spirit of life in Christ Jesus makes us free from the power of sin and death.
If we be carried by the Spirit, we are not under the Law. The power of sin shall not dominate us; we are not under the Law, but under grace.
The fruit of the Spirit is love, joy peace, longsuffering, gentleness, goodness, faith,  meekness, temperance.
Against such there is no Law.
The strength of sin is in the Law, but we have victory through Jesus Christ.
We live by the faith of the Son of God.
Faith is the under-establishment of things expected, the convincing of things not seen.
So, where does Bible language leave us?
" …someone who is walking in the Spirit of God will be producing good fruit proving that he or she is walking in the Spirit and that they will also be "increasing in the knowledge of God." This means that they will necessarily have a thirst and hunger for the Word of God and be reading their Bible, studying the Word, hearing biblical teachings, and as a consequence, growing in the knowledge of God.  David had this hunger and thirst too which is why he wrote in Psalm 42:1-2 that "As a deer pants for flowing streams, so pants my soul for you, O God.  My soul thirsts for God, for the living God." whatchristianswanttoknow

"Panting is how they (deer), cool down when they're hot, we all get hot when we're thirsty. Deer have very few sweat glands, panting is heat-exchange, in place of the cooling system which more sweat glands would offer.  quora.com
I love this illustration because we believers who walk in dependence on the Spirit have a thirst. Isaiah 55 says, " Ho, every one that thirsteth, come ye to the waters, and he that hath no money; come ye, buy, and eat; yea, come, buy wine and milk without money and without price."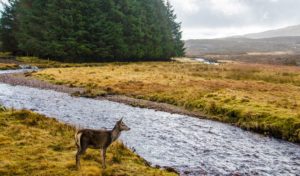 Two things;
If we have lost our thirst, we have quenched or grieved the Spirit.
The money needed to buy wine and milk and honey equals bankruptcy, money-less brokenness.
Acts 2:41-47 teaches: "Then they that gladly received his Word were baptized… And they continued steadfastly in the apostles' doctrine and fellowship, and in breaking of bread, and in prayers. And fear came upon every soul: and many wonders and signs were done by the apostles …And they, continuing daily with one accord in the temple, and breaking bread from house to house, did eat their meat with gladness and singleness of heart,  Praising God, and having favor with all the people. And the Lord added to the church daily such as should be saved."
God seeks intimacy with us.
Isaiah 55:2 continues, "Wherefore do ye spend money for that which is not bread? and your labor for that which satisfieth not?"
We can spend our bankrupt hunger for things which do not satisfy. Isaiah goes on, "hearken diligently unto me, and eat ye that which is good, and let your soul delight itself in fatness. Incline your ear, and come unto me: hear, and your soul shall live; and I will make an everlasting covenant with you, even the sure mercies of David."
Friends, our thirst is quenched in Our Savior. Only Christ can satisfy our soul. His mercy endures forever.      love ya