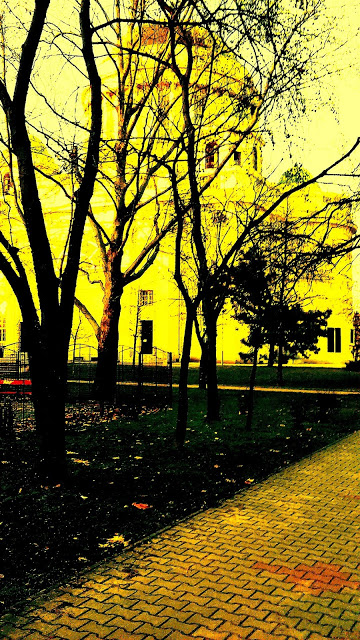 It's about the people. It's about those faces; humble, hungry, hoping, honest. To be happiness for them, make them smile, somehow fulfill; this is all. We listen, we see their hearts. Having touched the Christ, they crave more. Clearer, greater, a basket without bottom is God new-found. You and me and them; we are all conduits of joy, gardens of flower, trees of apple and pear, apricot and lemon.
It flashes through us, we bathe necks, waves come belly-basket, a bale of wheat. We dine at sacred table, the foe watches; he cannot mess. Love shields, we are whole, and in finger-less embrace the souls hug. They broaden love, they widen freedom, they coat the multitude; they mask all defamation.
The broken heart finds bond, mended souls synchronize, blazing passions quell, devil-fright vanquishes; I am now Him; He is now us. His is in heaven and so to me; sorrow, pain, cries, and dies are not to be. Music; blended, concordant, synchronic, dynamic, efficacious, barreling onward, pervasive, persuasive; saturates me, you, us, all.
A tear-bed has formed on one side; a deep slice crosses rivers on the opposite. Leathery cheeks, aged yellow with tints from brown to tan form a catcher's mitt, for nose and mouth. A scar above the eye warns of abuse; the visage tilts; not quite symmetric. The sides of the mouth deepen sharply with inflection, the brow configures adverse, easily. Crow's-feet show out of both. Eyes red, a telling stress adapted over years, white hair is pulled back. Chin cleft, a misplaced knob to the right; neck moves, a cloth covered turnstile. Do you know her?
The faces, cracked and smudged, magnificently turn bright; as cemented etchings still remain. New features glow from beneath their casing. Yes, scars tell their story; furrows, their years. Creases and crags map history; (God only, grasps their initial burn), Yes, disfigurement — but bursting is also light.
Awe the miracle. Smile breaks dread-lines; submit! Innocent caring, hearts bearing, love sharing, hands pairing we kiss the face, pure of God's radiant presence. It's Christ with the leper, Elijah with a child, John at Jesus' breast. A laugh, a dance, a whirl, a word, an affection; swept off of our feet we fly with wings as the wind.
Oh silhouette turn, oh profile face up, cosmetics paint not; oh frown, dispel. He longs to see your countenance and hear your voice. Loves make time stop or go or run or return. It makes eternity begin. Here in His presence we are undone, yet put back together. We are fragmented, still joined harmoniously. He greatly desires your beauty.
In closing, "Every valley shall be exalted, and every mountain and hill shall be made low: and the crooked shall be made straight, and the rough places plain," Isaiah 40:4. "And I will bring the blind by a way that they knew not; I will lead them in paths that they have not known: I will make darkness light before them, and crooked things straight. These things will I do unto them, and not forsake them." Isaiah 42:16. I will go before thee, and make the crooked places straight: I will break in pieces the gates of brass, and cut in sunder the bars of iron: Isaiah 45:2
Friends, the brass gates get broken in pieces and He will connect you back, next look at some sundering of those iron bars. He can melt them invisible, fast. In a moment, in the twinkling of an eye, at the last trump: for the trumpet shall sound, and the dead shall be raised incorruptible, and we shall be changed. For this corruptible must put on incorruption, and this mortal must put on immortality. 1Corinthians 15:52-53
Lastly, the love of Christ constrains us, (to hold together any whole, lest it fall to pieces or something fall away from it). Love does this, but can only be accessed through His broken body. Yes, marred beyond recognition, blood, water, and peace came forth. All love, all light, all mercy break through. A glance joins us to God, reconciled. A look, whole, we are holy, it's done.
Clamps, hinges, grooves, and veneer had roughly formed our faces. These are not necessary now; let them go. Ignore them for they disqualify the holding of soul in life by God alone. The under-face will surface radiant, beautiful. Unbeheld aforetime, others will notice. They will say of you, "There comes the river which makes glad the city of God, there the oil of joy, there the oil of gladness above all thy fellows." Love ya