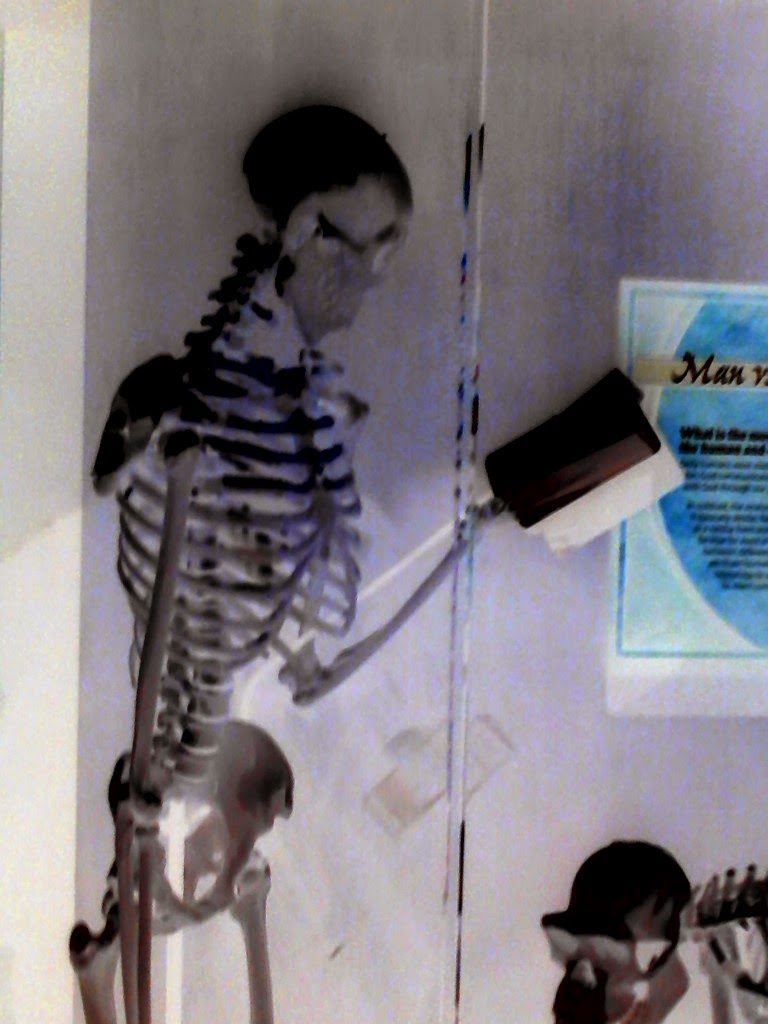 Taken at creation museum in Kentucky
"Hope happens when a person who has none gets some."
"Some what?"
"Well, I figure that the firm impression leading them to believe that they will get some is the 'some,' for now, giving them hope."
"Oh?"
"Well, more than a feeling, they have some kind of promissory indication."
"That helps, but who is doing the promising? Are they trustworthy?"
"Must be, or no hope happens."
"Are they able?"
"They must be that too."
"Can a random event mess up the promise, even though a person is true and strong?"
"I guess."
"I suppose we need a promise from one who is faithful, powerful and above all circumstances to bring hope."
"Like God?"
"Yes, it must be God.
Hope-giving phenomena relates to the helmet of salvation in Ephesians 6, but also to the helmet of the "hope of salvation" in Thessalonians 5:8. Martin Lloyd-Jones cites this one as for "discouraged Christians." Yes, "those beginning to think, to wander, whether they were engaged in the true religion after all," "they were beginning to look back to, and some were even tending to go back to the temple worship and ritual." This helmet is for those who "so keenly aware of the heat and burden of the day, forget who we are, forget what we were destined for."
" Spurgeon replies, "The joy of life has been like the sun under an eclipse; and in the chill, dark, damp shade of a terrible sorrow, a believer has cowered down and shivered beneath the icy touch of doubt." "It is this that gives rise to the gloom: You do not always know what the depression is about. You cannot discern the form which broods over you. You cannot grasp the foe. It is of no use drawing a sword against a shadow. Bunyan represents the pilgrim as putting up his sword when he came into the valley of the shadow of death. He had fought Apollyon with it, but when he came into the midnight of that horrible defile it was of no use to him, because everything was so veiled and blackened in the dark. Hobgoblins, as he called them, hovered around—strange shapes and singular forms of doubts which he could not combat with reasoning or overcome with argument," says Spurgeon again.
Another scholar observes, "Man often frees himself from the anxiety of life, from meaninglessness, not by continuing to ask the question of meaning, but by ceasing to ask it – in other words by ceasing to be a human being." "He makes himself anonymous … it's a flight into superficiality.
Frankl adds "…. the marks of fixation at, or regression to, immature levels of development." "Therefore, it is not wise publicly to glorify the indulgence in such patterns of regressive behavior by confusing it with a progressive mentality."
This kind of digression to immature levels of development can happen in the hopeless state of the depressed: even glorifying de-humanization; confusing it with a vitalization. Perhaps less extreme forms of subliminal escape masquerade as friendly for these. Nevertheless, these poor folks can find pleasurable, even identity-forming states, in their self-destruction also.
In Lamentations 3:17-25 we paraphrase Jeremiah; "thou hast pushed aside my appetite from happiness, I neglected goodness. My confidence and expectation wander away from the Lord. Remembering my depression, sense of maltreatment, the curse, the poison; my soul remembers the remembrance and is bowed down." His depression was caused from an oppressive state with real circumstances.
Precious folks, depression can be real and debilitating. Faith may be hard to find here. Some have a capacity to endure, others are more fragile. Some are built up ones in God's Word, others may be new. Friends, regardless, God has ordained purpose in every trial, promotion in our "light affliction," a promise to take us "through" the valley of the shadow of death. This time is for the friend that loveth at all times and the brother who is born for adversity.
Jeremiah continues however, "I retreat to the heart-starting point, and upon this I rightly have hope of patient waiting. It is of the LORD'S mercies that we are not consumed, because his compassions fail not. They are new every morning: great is thy faithfulness. The LORD is my portion, saith my soul; therefore will I hope in him." Jeremiah found the "helmet of the hope of salvation" in the heart of The God of lovingkindness.
Romans 13 speaks of it, "…love is the fulfilling of the law. And that, knowing the time, that now it is high time to wake out of sleep: for now is thy salvation nearer than when we believed." Aha! His return is imminent! Yes any time soon the trumpet will sound, and the dead in Christ will rise Then we which are alive and remain shall be caught up together with them in the clouds, to meet the Lord in the air: and so shall we ever be with the Lord."
Didn't Jesus say this? John 14:1-3 "Let not your heart be troubled: ye believe in God, believe also in me. In my Father's house are many mansions: if it were not so, I would have told you. I go to prepare a place for you. And if I go and prepare a place for you, I will come again, and receive you unto myself; that where I am, there ye may be also."
Paul echoed to the Corinthians, "The time is short." it remaineth that both they that have wives be as though they had none; In 1Co 7:30 "And they that weep, as though they wept not; and they that rejoice, as though they rejoiced not; and they that buy, as though they possessed not; And they that use this world, as not abusing it: for the fashion of this world passeth away. But I would have you without carefulness."
Finally, in Psalm 42:5 "Why art thou cast down, O my soul? And why art thou disquieted in me? Hope thou in God: for I shall yet praise him for the help of his countenance are the words of the Psalmist. Prov 24:13-14 teaches "My son, eat thou honey, because it is good; and the honeycomb, which is sweet to thy taste: So shall the knowledge of wisdom be unto thy soul: when thou hast found it, then there shall be a reward, and thy expectation shall not be cut off." Also in Pro 23:17-18 "Let not thine heart envy sinners: but be thou in the fear of the LORD all the day long.
For surely there is an end; and thine expectation shall not be cut off.
Surely there is an end, my friend, surely He comes. Gird up the loins of the mind, be sober, and hope to the end for the grace that is to be brought to you at the revelation of Jesus Christ. He is coming for you and me. "I can almost hear the Father when He says, "Son, go get my children." Soon and very soon, Yea, we'll be goin home. Love ya.