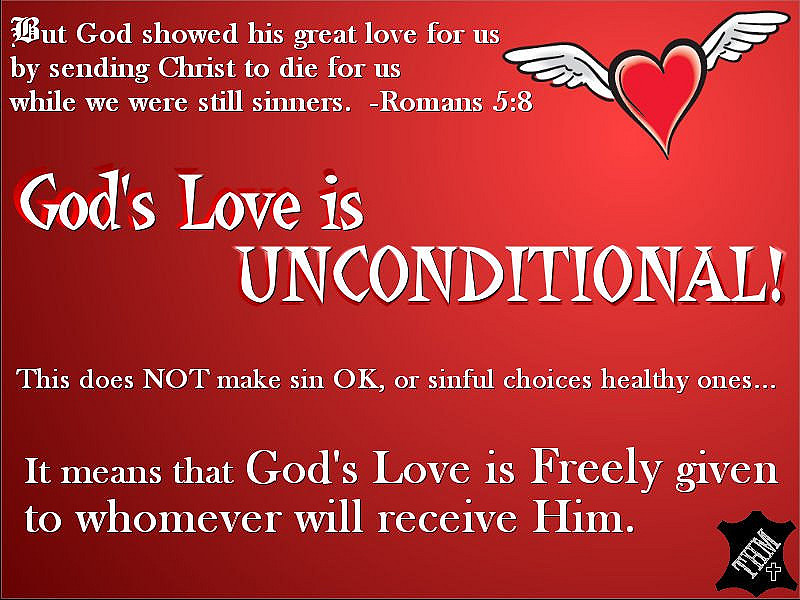 Through many failures, unconditional love grows — Through much weakness this love slowly emerges — In our personal sins the nature of His love finds a manifestation — In our frequent besettings He showers us with love — In our embarrassments, His glory shines –in humiliations His strength empowers — In utter weakness, His enablement finds perfection in us — In disgrace we find His grace.
Unconditional Love? We have heard of it. It's absolute, unqualified, clean, complete, consummate, etc. etc
His love is all-out — flat out — straight-out –love. His love is pure — perfect — profound — Love. His love is stark — clean — sheer — love. His Love is total — plumb — complete — love.
Ezekiel 16:6-8 speaks of this love: "I passed by thee, and saw thee polluted in thine own blood…"  "Now when I passed by thee, and looked upon thee, behold, thy time was the time of love —
I spread my skirt over thee, and
covered thy nakedness:
yea, I sware unto thee,
and entered into a covenant with thee, saith the Lord God,
and you became mine."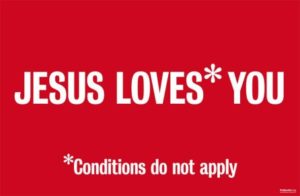 God swears this love, covenants it, and espouses His bride, (us). His love promises to never leave, fail, or forsake us. Only un-conditional love can do this. But this one was polluted in his or her own blood of shame.
Shame — "when their (Adam and Eve), eyes of their sense opened, they perceived their degraded …(body)." Delitzsch and Wallis.
Adam and Eve: "their bodies were the clothing of their internal glory, and their internal glory was the clothing of their nakedness." But …"the retreating blood accumulated upon the heart and caused it to fall into violent and stormy contractions, the result of which is, that the blood streamed forth to all those parts which by their demeanor can betray …senses of guilt, especially to the countenance (face), and its immediate vicinity — thence arises the blush of shame.  A system of Biblical Psychology; Delitzsch and Wallis.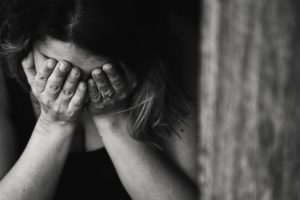 In contrast, Paul taught us, "According to my earnest — expectation with uplifted head and outstretched neck, that — in nothing I have reason to be ashamed (of "my work for God, or His work in me.)"  But in all boldness —  (the opposite to "ashamed.") so now also Christ shall be magnified in my body, whether it be by life, or by death." Philippians 1:20
Revelation 3:18 teaches, " I counsel thee to buy of me … white raiment, that thou mayest be clothed, and that the shame of thy nakedness do not appear."
Paul again; "hope makes not ashamed, for the love of God is shed abroad in our hearts. Romans 5:5.
In God's kind of love, His glory covers shame — which shame is the aura of fallen man.
Three things listed here oppose the blush of shame:
Boldness- free and fearless confidence, cheerful courage, assurance.
White raiment – the representation of our righteous-identity before God — a gift to us.
Hope – confident expectation for the future.
All three exhibit a saturation of unconditional love demonstrated in a person's heart and face over a lifetime.
Conditions removed include:
Possibility of failure over time,
Need for earning by following certain conditions
Dutiful motivation of the Lover — only true devotion and commitment create unconditional love.
Finally, David L. Bahnsen wrote a book called "The Crisis of Responsibility" in America: He writes:
'…one perspective that has the potential to destroy us all, and which must be …rejected if we are to stave off the authoritarian backlash is embracing
victim hood."
"…we must first understand how and why so many hot-button issues are being framed as scapegoat issues — reasons for someone to blame someone for something."
Friends Jesus Christ exists our Scapegoat, He took all our blame, He stood in as the guilty one, He suffered our fateful death, He bore our sorrows, and all for our healing. God has placed a new Spirit in a receiving man and new heart, and power to be sons of God.
Don't become the inevitable victim, don't begin to blame others, but bask in His unconditional love.
Only God can love us this way. Thank You Jesus. love ya