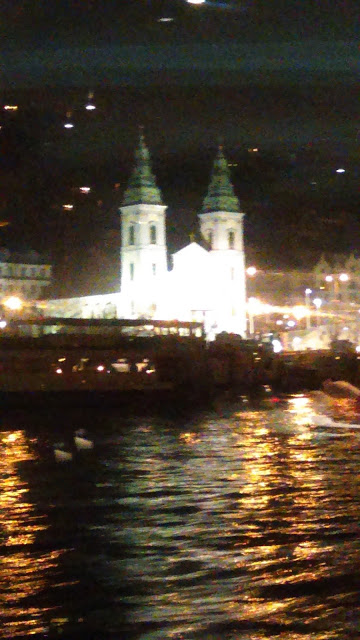 Bridge on Danube River
What is the fellowship of His sufferings? "Something undergone;" and "that which befalls one," are two ideas for the concept of "suffering." Obviously a passive occurrence as opposed to active, folks are receivers of suffering, unwanted. "Fellowship" refers to a shared thing. In a sense, Christ shares His victim-hood with us? We share our wounded-hood with Him. We must taste being preyed upon to have this fellowship? — All of the above.
"Paul had serious suffering, but as he felt it was to make him a better workman, and so for the good of others, he was content to share it with his Lord. And here we must observe that "sympathy" is the closest fellowship between souls. What is this sympathy? It is fellowship in suffering; it is in distress, in fiery trial, that hearts come nearest to one another."
"The Hebrew children never knew such fellowship in Babylon before as the Son of God gave them in the fiery furnace. It is here that the reason of our fiery trials lies. They are to bring us nearer the heart of Jesus." R.M. Edgar
What is that heart? "Chesed" (mercies), is Old Testament for the sympathetic; touched with feelings of the infirm, identifying with the inert liability of such guilty, grace for grace giving, this heart resides. His compassions, as a mother cherishes her baby in womb, fail not. They outlive all pain; refresh themselves daily; (every 6 A.M.?) on into eternity.
This is fellowship of sufferings, the price and the reward. Power of resurrection follows, then precedes the next, followed by resurrection again—and so on. We go from strength to strength, glory to glory, faith to faith this way. Resurrection capacitates the coming suffering received. Suffering capacitates the next resurgence. We are being conformed unto His death.
Death? An inward dividing asunder of soul and spirit is meant. Exterminated per suffering event is the Soulish life of sense observation, powers of rationalism and empiricism and the lusts thereof, also. Beaten out? No, exposed by light as impotent for situations where outside adversity heats up the furnace. Are these opponents flesh and blood? Yes, and also invisible ones.
Powerless, even more, are the flesh-weapons against the supernatural; the simply-foolish struggle to substitute soul-power for God's life from above. Immobilized, toothless are the strongest blasts of muscle mass; their powers inhibit God. However, the "greater battle" is for the glory of God, for His life to be manifest, for souls to be saved. Love, "agape" is necessary now; spirit of life-giving, law of faith.
"I die daily" says Paul; I willingly spend and am spent. The heart of Christ is magnetic, draws me onward; ah the fellowship — An intimate purpose, a camaraderie, companionship, friendship. The narrow road, opening into a field, an expanse; close to His bosom, I am liberated from myself.
Yes, I am allowed to express suffering effects, to cry, to grieve, shame notwithstanding. I find His humanity in my humanity, His feelings of infirmity in my own. He weeps when we weep, rejoices when we rejoice. In our affliction, He is afflicted; He is a man, yet God.
"Then Peter, turning about, seeth the disciple whom Jesus loved following; which also leaned on his breast at supper…" This is in John 21:20. Brotherly affection encouraged, the Perfect Man stoops to imperfection, yet in manhood, identifies with it. He knows how touch, taste and smell dominate men; it is in this world that love streams most real for us. Frankly, pain pushes us back into that world and only human care makes any sense there. He obliges us with the same.
Now we are free indeed, the Son has done it. He has found us in our most vulnerable place, our Achilles' heel, our all-too-real flounder, the weakest link of our chain. We have found ourselves too, because He did not despise us. Instead, love sanctified those new-found soul-crags and coves, hideaways and dark-rooms.
Finally, we readily admit. "And without controversy great is the mystery of godliness." This is from 1Timothy 3:16. "And to make all men see what is the fellowship of the mystery…" In Ephesians_3:9, this is the goal. He will make you perfect, stablish, strengthen, settle you, beloved. Enjoy this mystery friends, it astounds the mind, but thrills the inner man. Paul just wished to "know Him." Us too? Love ya